Racecourses demand special grass seed mixtures – DLF has the answer.
The demands on a racecourse mean that a suitable grass seed must demonstrate fast establishment, good dense cover and the recovery required to fulfil a challenging race season. DLF brand Johnsons Sports Seed, has a number of mixtures dedicated to producing quality racecourse surfaces.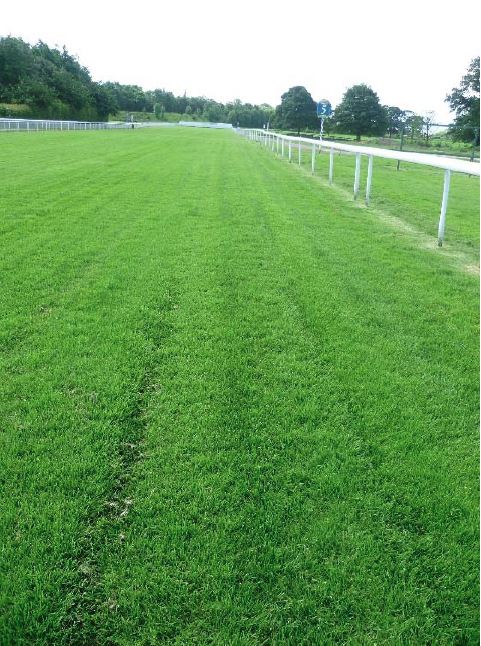 When considering end of season renovation or new courses/grounds, hard wearing mixtures are a top priority. The new formulation of J Pitch, more traditionally considered for football or rugby surfaces, is ideal for end of season renovation of gallops and racecourses thanks to its tolerance of heavy wear. Featuring Columbine, a highly rated cultivar for high density and wear tolerance, this Perennial Ryegrass mix demonstrates strong recovery and very rapid establishment.
J 4Turf is another ideal choice for equestrian use, as either a post or in-season renovation mix. The unique combination of Diploid ryegrass Berlioz with Double and Fabian 4Turf Tetraploid Perennial Ryegrasses provides several benefits. The increased root penetration and rapid germination of the Tetraploids optimises initial establishment. The Tetraploids also provide excellent winter colour and disease resistance. Berlioz provides shoot density and high wear capacity.
For the polo market, where high sand rootzones are more common, Johnsons JRR mix blends high ranked wear tolerant ryegrass with smooth stalked meadow grass which confers binding capacity and wear tolerance.
John Hughes, Regional Technical Support for DLF and Johnsons Sports Seeds said, "Equestrian venues provide a unique set of requirements for amenity grasses. They have to provide a dense shock absorbing sward with wear capacity at high cutting heights. The varieties we have available from our breeding programme provide practical choices for a highly demanding sport."