Welcome to Your Countryside
Game Cover, Environmental, Green Manure Seeds and Forage Crops
2016 was a much later season for establishment and growth, but with a kinder harvest for most. Cover crops have also excelled, with the extended warmer autumn giving them opportunity to produce larger quantities of biomas.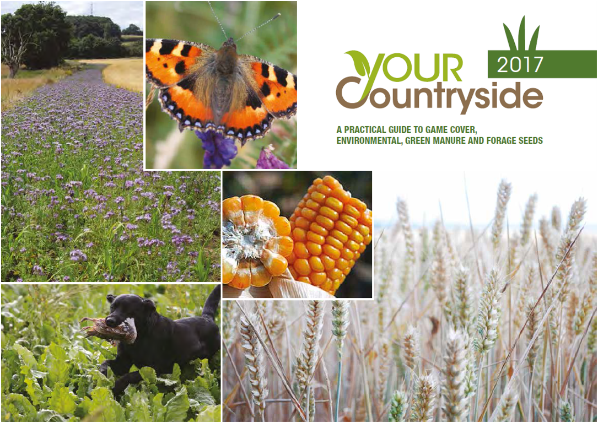 British Farmers are passionate about providing a huge variety of British food for us all to enjoy but farming is about much more than growing great food. Farmers take their role as countryside managers seriously – one of the reasons why 80% of England's landscape character is now in an improving condition after the introduction of Environmental Stewardship Schemes some 16 years ago. Therefore it is pleasing that those farmers who currently farm with environmental measures already in place will not be penalised and can continue until their scheme expires. Those with less sustainable systems will be encouraged to do more with the Countryside Stewardship Scheme (CSS). This scheme is an important tool in enabling farmers to continue their good work to maintain and enhance biodiversity, water and soils.
The vote to leave the European Union in June created uncertainty for existing agri-environmental agreements but with the clarity that existing agreements (ELS, HLS and CS) will be honoured in full. We are delighted to read that Countryside Stewardship Scheme application numbers are much higher than last year. The CSS payments seem to be better than the ELS & HLS schemes as the options are more diverse and have the flexibility for farmers to include or exclude individual parcels of land. This is very helpful as it also includes existing ELS & HLS habitats in the new scheme. With the increasing pressure for agrienvironment schemes to deliver greater benefits and for farmland to provide more food and energy, the new CSS, is designed to be far more focused and targeted, with a strong focus on wild pollinator and farm wildlife packages to help deliver these greater benefits. This makes it an attractive option for farmers
All the species marketed by DLF Seeds Ltd. are trialled at our Gloucestershire site and in consultation with many of our customers we trial and evaluate many different types of products and mixture prescriptions. We believe this is the most important part of the process as we procure seed from all around the world, so testing and evaluating performance under UK conditions is vital. Our customers may rest assured that they are dealing with a forward thinking company which invests heavily in R&D majoring in forage crops but also focusing on many other crop species. Our Product, Species and Mixture of the year have been carefully selected using customer feedback.
Our main goal is to ensure that our customers receive the best possible product portfolio we can supply and the Your Countryside catalogue continues to offer valuable technical information and advice on a diverse range of game cover, environmental stewardship mixtures, root crops and cover crops products.