Multi-species leys offer diverse benefits
Last year DLF's Mark Simes was part of the judging panel for the Dorset Grassland Society 'Grassland Manager of the Year' award, which awarded dairy farmer Guy Chandler top spot
Guy Chandler and his family farms the 122ha dairy farm at Alweston Farm, on the edge of the Blackmoor Vale, near Sherborne in North Dorset, as a tenant of the Sherborne Castle Estate. He also runs a second dairy farm, which is organic, with 200 cows a few miles away.
His parents, Tish and David arrived at Alweston Farm nearly 30 years ago, running a very successful 120-cow autumn-calving herd in a conventional system – grazing the cows by set stocking the fields and milking twice a day. A small acreage of wheat and barley was also grown, as was 24ha of forage maize.
But after spending a year working on dairy farms in New Zealand in 1997, Guy could see a different way of doing things. He wanted to create a low-cost, spring-calving system based around grazing, with no maize or cereals.
In 2003 a new 24/48 swing-over parlour was installed in the New Zealand style – built outside and open to both sides. Jersey and New Zealand genetics were introduced, and cow numbers trebled to 360, but then dropped back to 300.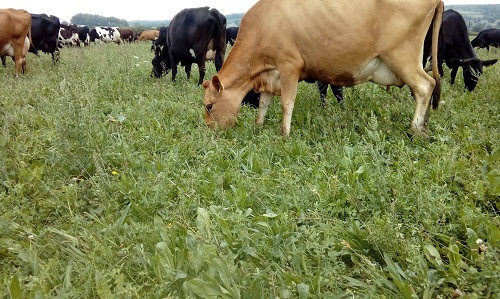 Cows grazing multi-species leys
Alweston Farm is not ring-fenced, and the cows have to cross a main road and two minor roads to reach the fields. Tracks were installed made of oolitic limestone, which is made of small spheres that are stuck together by lime mud, which packs down and drains well. The soil on the farm varies from stone brash to Oxford clay.
Multi-species leys
The fields were set up into 12-hour paddocks using electric fencing, which were rotationally grazed and initially consisted of perennial ryegrasses and clover.
But having been a member of the Gillingham Grazers Discussion Group for 20 years, and seeing multi-species leys working well at Rob Richmond's dairy farm in Gloucestershire and Jonnie Rider's farm in Wiltshire, Guy wondered if he could do the same.
"Deciding to introduce a range grasses, clovers and herbs, could be seen as a radical step away from what I had seen and learnt from my time in New Zealand," Guy admits.
"But encouraged by what Rob and Jonnie had achieved, I wanted to give it a go. We sowed one 4.5ha field with a 18-way mixture in the spring of 2014 (Table 1). At the same time, we started milking once-a-day and feeding no concentrates at all. The main effect was that our variable costs plummeted."
Herb seeds mixture, formulated by Tim Rutter of Pearce Seeds, 2014. - Sown at 14kg/acre
1.5kg
Diploid Ryegrass
0.6kg
White Clover
0.4kg
Chicory
1.5kg
Cocksfoot
0.25kg
Wild White Clover
0.5kg
Lucerne
1.0kg
Timothy
0.5kg
Alsike Clover
0.2kg
Ribgrass
0.8kg
Meadow Fescue
0.5kg
Birdsfoot Trefoil
0.25kg
Yarrow
0.5kg
Tall Fescue
2.0kg
Sainfoin
0.5kg
Sheep's Parsley
0.75kg
Red Clover
1.0kg
Sweet Clover
1.25kg
Burnet
The sward established well and was rotationally grazed at between 32 to 34 days between grazings – ten days longer than for traditional perennial ryegrass swards.
While the nutritional quality of the swards may not be quite as high, at 11.5 MJ ME as opposed 12 MJ ME and 20% crude protein as opposed to 25%, it still produces more than 400kg of milk solids/cow or 4,000 litres of milk/cow per year. The multi-species ley has also given Guy many more benefits.
"The larger plants capture more energy from sunlight and make a bigger nutritional contribution to the soil via their roots, helping to keep it healthy," explains Tim Rutter of Pearce Seeds, who works closely with Guy and formulated the mixture.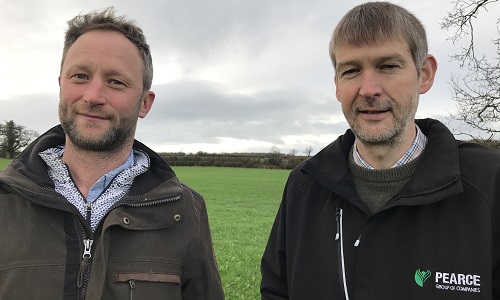 Guy Chandler with Tim Rutter of Pearce Seeds
"The cows love to eat it and gain health benefits from grazing a diverse sward, which brings micro-nutrients up from deep in the ground. The wide variety of plants also gives growth on the shoulders of the season, early in the spring and late into the autumn. There are pros and cons of growing ryegrass leys and multi-species leys, and Tim is using both to gain the benefits of each.
Mineral content of herb species. X = mineral content is greater than for Perennial Ryegrass

Phosphate
(P)

Potash
(K)

Calcium
(Ca)

Magnesium
(Mg)

Sodium
(Na)

Copper
(Cu)

Cobalt
(Co)

Selenium
(Se)

Plantain

X

X

X

X

X

Sheep's Burnet

X

X

Chicory

X

X

X

X

X

X

X

X

Sheep's Parsley

X

X

X

X

X

Yarrow

X

X

X

X

X

X

Sainfoin

X

X

X

X

X
Source:DLF
"Guy suffered two drought years in 2019 as well as 2018, when the rest of the country also suffered. In those two years the chicory and plantain grew really well when the grasses had died back to nothing – saving the feed situation."
All the cows are dried off on 20 December and two thirds are outwintered on another farmers land on grass and kale. They calve in straw yards from the 20 February. Milking once-a-day allows the herd to be managed by one person for most of the year. The high constituent milk, at an average 5.09% butterfat and 4.03% protein, is sold to Barbers for cheese.
Pros and Cons of a ryegrass ley versus a multi-species ley.
Ryegrass ley
| | |
| --- | --- |
| Pros | Cons |
| Productive and nutritious | Demanding of nitrogen and moisture |
| Fast establishment and vigorous growth | Relatively shallow rooting |
| Responsive to nitrogen fertiliser | Not as stress tolerant as some species |
| High yielding in the first two years | Less trace element/mineral profile than some other grasses |
| | Susceptible to frit fly attack |
Multi-species sward
| | |
| --- | --- |
| Pros | Cons |
| Enhanced stress tolerance. Persistent | Slower to establish |
| Greater root mass and depth | Lower yield potential and quality |
| Earlier spring/later autumn growth | Not as responsive to fertiliser |
| Palatable | Difficult to control weeds chemically |
| Good trace element/mineral profile | |
| Can have anthelmintic properties | |
Source: DLF
Grazing focus
Ten out of 30 fields on the farm are now in multi-species leys – with a further 7ha drilled in April 2018.
Grass growth is measured weekly during the grazing season and the results fed into the AgriNet computer program. The average yield across the farm in normal years is between 12.5 and 13t DM/ha, although this fell to 9.8t DM/ha in last year's Dorset drought.
Cows go into a new paddock at 3,200kg DM/ha and exit at 2,900kg DM/ha. No nitrogen (N) fertiliser is applied to the multi-species ley and around 220kg N/ha/year is applied to the grass leys.
With a stocking rate of just under three cows/heifers per acre, the aim is to produce as much milk from grazed grass, which is usually 100% in non-drought years. Much of the silage is made from surplus grass growth on the grazing fields.
"We cut one block of perennial ryegrass/clover in May and put this into a clamp. It is important to have some high-quality forage for the cows in early spring. If I don't have enough silage I buy it in.
"To maintain the quality of our grazing throughout the season, we cut any paddock that is getting ahead of the rotation. This goes into bales which are wrapped and fed, with deferred grazing, to the cows that stay on this farm in winter."
Dorset Grassland Society
Last summer, Guy won the Dorset Grassland Manager of the Year award run by Dorset Grassland Society and judged by Mark Simes of seed company DLF. He was judging a wide variety of different grass-based dairy systems, but the overall quality of the grazing at Guy's farm was clear to see.
"Everything looked right – the grazing leys were is excellent condition despite the localised drought with no weeds visible, the cows looked healthy and content, and the system was working beautifully. He was a deserved winner."
"Our main goal is to feed quality grass and forage instead of cake," says Guy. "We do everything we can to have enough grass in the spring to support our cows in early lactation. This calls for careful grazing at the back end of the year - it is a mistake to graze too hard then.
"The multi-species leys certainly contribute, and I am considering putting half the farm down to them – leaving perennial ryegrass and clover swards for the half with heavier ground. The decision to grow them was the right one."
This article was first published in British Dairying in March 2020