Quality and Quantity the complete package!
Advanced™ Grasses are created by crossing fescues with ryegrasses. The objective of this Advanced™ hybrid breeding is to create grass varieties with high forage quality combined with good persistence, stress tolerance and disease resistance.
Yield increases of between 10% and 50% are common when DLF varieties of Advanced™ Grasses are tested in trials.
​​Why are Advanced™ Grasses so successful?
Intensive breeding for more than 40 years
Greater tolerance to variations in climate, soil management etc.
Yield improvement from crossing of two non-related species
Development of types and varieties with different characters
ADVANCED™ GRASSES PERFORMANCE DATA

YIELD
T DM/HA
% SUGAR
CONTENT
% PROTEIN
CONTENT
ME
MJ/KG DM
D-VALUE
HYKOR Advanced™ Tall Fescue
17.63
10.4
22.5
11.4
71.4
Tall Fescue
16.37
12.5
19.8
11.4
71.6
PERSEUS Advanced™ Italian Ryegrass
22.68
12.2
21.6
11.3
71.1
LOFA Advanced™ Hybrid Ryegrass
21.69
12
21.9
11.3
71.1
Tetraploid Intermediate Perennial Ryegrass
17.37
12.1
24.8
11.4
71.9

FOJTAN and MAHULENA are suitable for silage mixtures together with perennial ryegrass, hybrid ryegrass and lucerne or red clover. The Advanced™ Tall Fescue increases the persistency of the mixture due to the deeper root system and tolerance to dry conditions. They also show excellent forage quality.

The varieties PERSEUS and PERUN have all the attributes of an italian ryegrass but exhibit improved persistence and stress tolerance. They are ideal in short term mixtures of up to 3 years duration and are especially good companions for red clover.

The variety LOFA has the broadest appeal of all Advanced™ Grasses. It has all the attributes of a hybrid ryegrass but exhibits improved persistence and stress tolerance over standard hybrid ryegrass varieties. These characteristics make Lofa an ideal component in medium term mixtures as its persistence, being similar to standard hybrid ryegrass, matches the expected duration of the vast majority of medium term mixtures currently used in the UK.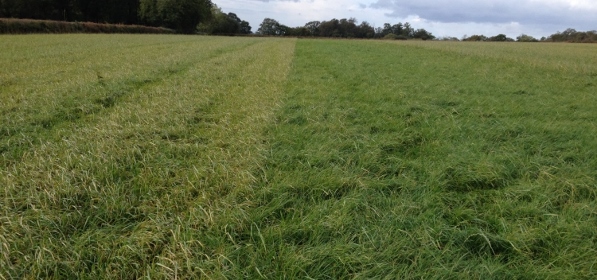 Crown rust resistance is plain to see