Aim for sward density, winter hardiness and freedom from disease for healthy grass
"Dry matter yield is still very important, but animal performance will always be enhanced if the varieties and species used are both palatable and their digestibility is maximised."
Farmers and agricultural businesses across the country are facing the double-barrelled attack of Brexit and Covid 19. Seed supplies to EU countries and to Northern Ireland are banned at the time of writing, due to equivalence on seed certification and no-one in Europe is inclined to help us out. This applies to potatoes, cereal seed, grass and other small seeds and is a serious concern for many in Scottish Agriculture. There is probably no more resilient industry than farming, as was shown in 2020, and we will all have to show the same level of self-sufficiency and durability to make sure 2021 is as successful as possible. Those farmers who are able to use as many on farm produced inputs as possible, be it feedstuffs, energy or whatever, will be best placed to do well. Similarly farms with greater levels of soil quality from higher organic matter, decent levels of pH, P, K, soil microbes and good physical structure will be able to maximise their farm outputs, for no greater input costs.
DLF Seeds, as HF Seeds and many merchant own brand mixtures, have been helping UK farmers to maximise their livestock production for almost 70 years. This long and successful pedigree has grown over the years as generations of farming families come to trust us as the foremost breeder and blender of grass mixtures available across the UK.
Farmers know that the success of a mixture is much more than just yield in the first year or two. Dry matter yield is still very important, but animal performance will always be enhanced if the varieties and species used are both palatable and their digestibility is maximised. Keeping the carbohydrate content of the cell wall as cellulose and hemi cellulose for as long as possible and delaying the build-up of lignin, leads to more energy per bite of grass. There is almost twice as much energy in the cell wall than in the cell contents and ruminant animals have been designed to maximise their extraction of this energy by chewing the cud. We call this higher level of digestible fibre (digestible Neutral Detergent Fibre - dNDF) as FIBRE ENERGY.
Persistence is a measure of several different and sometimes inter related issues. Sward density, winter hardiness and freedom from disease all contribute to keeping a field of grass healthy and productive for many years. DLF Seeds are renowned for the length of time that they last – while still producing lots of high quality grass. Working alongside Aarhus University in Denmark, we have been able to select individual grass cultivars with greater, deeper root structures. This increased root mass enables the grass plant to harvest more nutrients, including water, from the surrounding soil – increasing both DM yield and also the ability to withstand either too little or too much water.
Our extensive trial sites in Gloucestershire and in Waterford in Ireland, with both straight grass varieties and mixture trials since 2012, have allowed us to breed better grasses for the UK market. As well as better varieties, we are able to study the benefits of using mixtures, rather than mono cultivars. This has helped us design more resilient mixtures which are better suited to the increasingly variable weather patterns we have to cope with.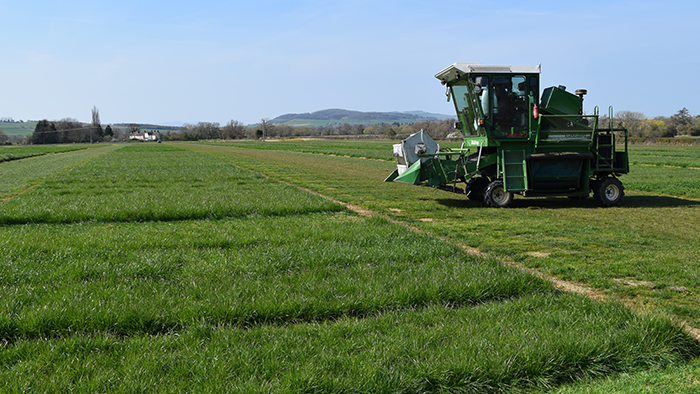 We are also now running on farm grazing trials of 11 varieties and simple mixtures, across 4 dairy farms, where we are measuring the DM yield, how well a paddock is grazed out and how quickly they recover. This sort of developmental work allows us a better understanding of why certain grasses that perform well in trials, are less impressive on farm.
Article published in Farm Noth East MAgazine, Feb 2021 Issue no 103
Author Paddy Jack DLF Seeds LTD.