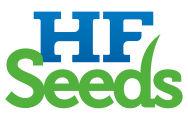 HF Seeds have been at the forefront of grass seed innovation for almost 60 years. Farmers have come to rely on HF Seeds for high quality seeds leading to excellent livestock performance, whether cut or grazed.
The very best varieties, in terms of dry matter production, sward density, winter hardiness and feeding value are carefully selected to combine together into our famous grass seed mixtures. You can feel confident that purchasing an HF Seeds mixture is a good start to establishing a new grass sward, leading to the most cost effective means of ruminant animal production.
HF Seeds have been part of DLF since 1996. DLF are the world's largest grass and clover breeder with over 800 employees worldwide, of which 80 are directly employed in grass breeding. This grass breeding and development programme is at the core of what we do and what we have done since 1906. In recent years we have developed varieties with higher levels of digestible fibre – Digestible neutral detergent fibre (DNDF) for greater live weight gain per kilogram of dry matter eaten as well as seed treatments to improve the success of overseeding and deeper rooting more stress tolerant festuloliums or Advanced™ Grasses.
Hailes Farm at Didbrook in Gloucestershire is the home of our UK trials work. Here we have 8500 grass and clover plots on trial as well as over 70 mixture trial plots. This allows us to assess how well individual varieties perform when sown along with other varieties and species. In Ireland we have 2200 plots sown at our Faithlegg site near Waterford, as well as 150 mixture plots, all of which adds to the information used to formulate our mixtures.